INTC MEPhI Will Become a Full-Cycle Innovation Valley
01.08.2022
On July 28, Kaluga Region Governor Vladislav Shapsha met with MEPhI Rector Vladimir Shevchenko and General Director of the Innovative Scientific and Technological Center "Park of Atomic and Medical Technologies" Foundation (INTC MEPhI) Irina Pivinskaya. At the meeting, a new concept of ISTC was presented, which is based on supporting innovation throughout the entire life cycle – from basic research to the release of finished products to the market.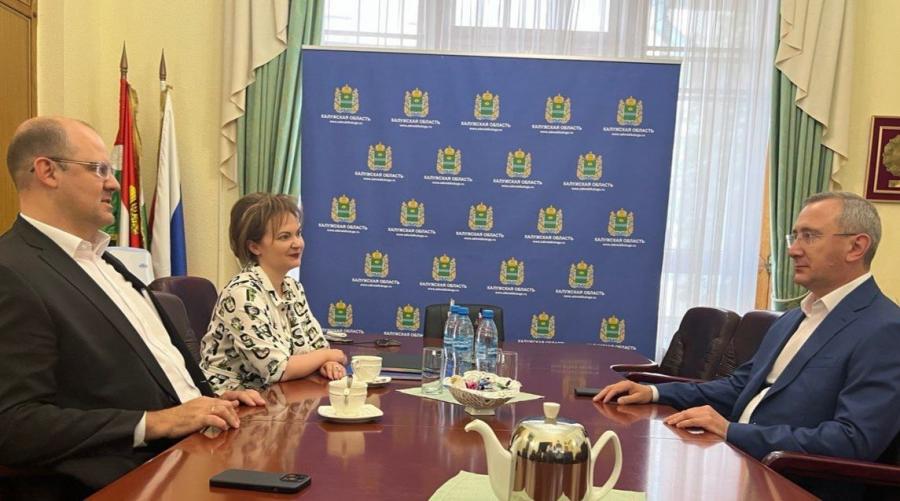 Meeting of the Governor of the Kaluga Region Vladislav Shapsha with the Rector of MEPhI Vladimir Shevchenko and the Director General of the INTC MEPhI Irina Pivinskaya
INTC MEPhI is being created in the Kaluga Region in accordance with the decree of the Government of the Russian Federation. MEPhI is the sole founder of the Fund and the management company of INTC.
The first stage of the INTC is located in Obninsk on the territory of 10 hectares. The first infrastructure facility of the "Park of Nuclear and Medical Technologies" to accommodate residents will be the finished building of a business incubator with an area of ​​about 8,000 sq.m.
"Providing conditions for the commercialization of the results of scientific and technical activities is the direct main task of innovative scientific and technological centers," says Irina Pivinskaya, General Director of the Foundation.
Earlier, on July 26, the Minister of Economic Development of the Russian Federation Maxim Reshetnikov held a meeting to discuss the restart of the mechanism of innovation and technology valleys - a special regime with tax benefits. Speaking at this meeting, the Governor of the Kaluga Region Vladislav Shapsha spoke about the MEPhI INTC project.
"We plan that at least 30-50 participants will become its residents. There will be at least five by the end of this year. In the areas of "nuclear research and development", "nuclear medicine", "new materials", "information and communication and additive technologies". Further, we expect that another 10 participants will be added annually," the governor said.
As Irina Pivinskaya notes, registration of residents will be possible immediately after the completion of the development of documents regulating the activities of the technological valley and the regulatory framework for the functioning of the INTC. By the end of 2022, the status of a resident is planned to be assigned to the first companies.
"It is gratifying that the specialization of our technological valley is of interest not only to companies from the Kaluga region, but also from other regions of Russia, with which active work is underway to interact," the head of the Fund stated.
According to the governor of the Kaluga region, in the current conditions, the INTC has a special task – to become a response to sanctions and accelerate the achievement of the country's technological sovereignty.