Testimonials
Shalahuddin-Al-Ayubi Sitanggang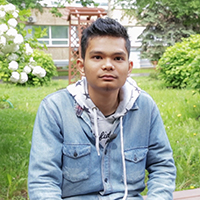 Indonesia  

"Russian people are amazing, warm and really kindhearted"

My name is Shalahuddin-Al-Ayubi Sitanggang, I am from Indonesia. I am the first year student after finishing the Preparation faculty of MEPhI. Now I study nuclear physics and technologies.
Why I've choosen Russia but not another country? To me it's like a new challenge. You have to adapt, to do some unexpected things. I have a plan to receive Master's degree but it depends on the contract I will have with my country. May be I will work here or may be will come back to Indonesia.
When I came here for the first time it was really hard to me because I didn't know Russian and here not everyone speak English. But later I saw that people here are amazing, warm and really kindhearted. Russians are perfect!
I live in dormitory with foreign friends – from China, Mongolia, Togo… We have different cultures and it's great. Sometimes we have problems but we know that we are here to study, so we solve these problems.
Moscow is really beautiful. I walk around the city, visit parks – Tsaritsyno, Kolomenskoe, VDNH. I was at Arbat street – it's an art place where people play music, paint. As a student I like doing sport, playing, walking around, sleeping, playing music, watching films and studying. Also I like festivals, I even played music at the international festival in MEPhI.
Magaly Choez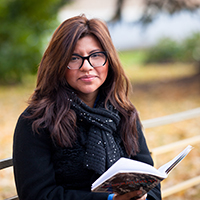 Ecuador  
"When I arrived, I did not know a word in Russian. Now it seems funny to me"

My name is Magaly Choez, I'm 25. It's already 5 years as I live in Moscow. I've received bachelor's degree here, in Russia and now I study at MEPhI, in the Institute of International Relations. I learned about MEPhI by chance. And what I liked here is teaching: it is not limited by one direction, but allows students to develop technical, economic and political spheres. Every day I discover something new, receive new knowledge, and, of course, it pleases. It means that all is in front.
When I arrived, I did not know a word in Russian. It was very difficult because I could not communicate. However people somehow understood me. Now, when I remember it, I find it funny. And I can say that with great effort but I've learned to speak Russian. And it gladdens me.
In fact I spent a lot of time teaching grammar. I just sat and taught – verbs, words, nouns, and adjectives... And it's the only way I could learn it. And, of course, practice is very important. I've read Russian literature. At the very beginning at Russian lessons we read "Eugene Onegin" and learned it by heart. Our teacher explained unfamiliar words to us. It is a very interesting work. Since then, it's my favorite. Also I read "Heart of a Dog" and "A Hero of Our Time".
In the Institute of International Relations I have recently started studying English and French, what makes me very happy. I always wanted to know them and hope that everything will be successful. Teachers and classmates treat me and all foreigners really good. They are always ready to help.
In my spare time I go to the gym, follow healthy diet, as well as try to walk a lot in summer, because in winter I can not walk long. Also I visit museums, try to learn more about the culture of Russia.
What can I say about life in Russia? I like living here, despite the difficulties that I had in the first period. In my opinion the most important thing is not only to learn the language but also to understand the mentality of Russian people. And when you start to understand it, you start to fully communicate.
Tebogo Leshilo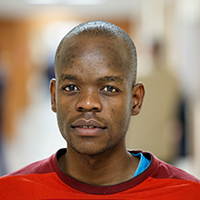 Republic of South Africa  
"Moscow is very beautiful, and there are a lot of museums"

I was working in the nuclear industry of South Africa for 4 years when I was offered a grant to study in Russia. I found this offer very interesting. Besides, I want to be part of a large project, which is now implemented in my country – construction of a second nuclear power plant.
The problem which can arise in Russia is language. Now I actively learn it and can say that it is difficult, especially grammar. It differs from English a lot. But we have excellent teachers of Russian in MEPhI, they speak English and can explain what we do not understand. Sometimes there are problems in other subjects, for example, physics or mathematics, when the lecturer speaks quickly. To practice Russian I watch different videos on the Internet. And I can confidently say that the longer I'm here, the less important this issue becomes.
Another interesting point is the weather. In South Africa the temperature does not fall below 10 degrees in winter, whereas in Moscow it is -16. I was impressed. My family asked how I survived. But it's fine, you just need to dress warmer.
In my spare time I walk, see the sights, and often go to the city center. Moscow is very beautiful, and there are a lot of museums. Russians love museums. At home I don't visit them so often.
MEPhI arranges various activities for students. For example, I was on the Student's Day. People were singing and had fun. I even received a small gift. In general, I should note that there are very friendly people who are kind to foreigners.
Hamidul Haque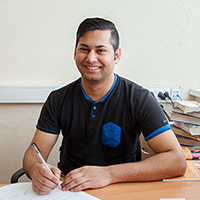 Bangladesh  
"You know, Moscow is a city of parks"

My name is Hamidul Haque, I am from Bangladesh – the country in the Southeast Asia. Now I am studying in the National Research Nuclear University MEPhI, which is one of the best Universities in Russia. It can be measured as MIT (Massachusetts Institute of Technology) and it's a pioneer of nuclear engineering. Also MEPhI is connected with CERN – European research center. It's the prestigious University.
It's not difficult to study in MEPhI because teachers and staff are so friendly! They always help students. Every teacher in physics, mathematics or any other subject is so much helpful.
In my free time I usually go outside. You know, Moscow is a city of parks. There are a lot of them and other places where you can go for a walk, spend time with friends. Recently we have done Russian traditional shashlik party. So when we have little time we spend it in different places like Gorky park. We've already visited a lot of them. I have a cycle and I can ride anywhere.
Every month or even every week we arrange a party, make traditional Bengalee food and get together. Here we have more than 20 students from my country, so every month there is one or two birthdays. We celebrate it or our national days like Pohela Boishakh.
I want to say that MEPhI is intellectual, innovational and creative place, which provides opportunities for students to achieve glorious success. So I am very happy to study here.