Openness, Internationalization, Innovation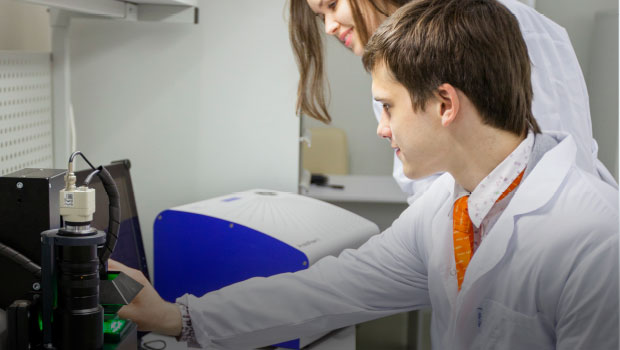 Openness, Internationalization, Innovation
MEPhI is a research and educational center with honorable traditions and a clear vision of the future.  The world's best technology experts excel in advancing applied sciences, boost economic outputs in various fields, and support the growth of industry and businesses.
MEPhI is a leading Russian University that augments its positions on the global educational scene.  MEPhI is proud of ambitious and skilled experts in science and engineering who have graduated from the University since its establishment in 1942. Six Nobel laureates contributed to educational process and research at MEPhI. And now, relying on extensive experience, we are creating a future with a new generation of explorers and inventors.
Walking around campus and meeting students from Europe and Asia, as well as, international scholars from MIT and Berkeley, one you would be surprised to find out that MEPhI was a closed, strategic facility until the 2000's. But, that has changed significantly.
MEPhI in 6 facts

19 satellite campuses
Beyond Moscow, MEPhI has 21 satellite campuses, located in 20 cities all over Russia. It combines 11 Higher Education Institutions and 20 colleges, totaling over 38,000 students and over 1500 full and associate professors.

10,000 students
The Moscow branch has 10,000 students and 800 faculty.

Global university
MEPhI is a global university. It has adapted the European Bologna education process, and now offers BS, MS and PhD programs. It is also a member of the CDIO (Conceive, Design, Implement and Operate), ENEN (European Nuclear Education Network), STAR-NET (Regional Network for Education and Training in Nuclear Technology) international communities and offers a growing number of programs and courses in English. MEPhI is the base organization of the CIS member states for training, retraining and advanced training of personnel in the field peaceful use of atomic energy.

Plans
By 2020, MEPhI reached 15% international faculty and staff members and 25% international students.

Own research reactor
We have our own pool-type research reactor, with "blue glow", discovered by Cherenkov, one of the University's co-founders.
Graduates
MEPhI has undergraduate and graduate students from Turkey, Vietnam, Jordan, Mongolia, latvia, Montenegro, Bulgaria and the United States of America.
MEPhI generates scientific knowledge, disseminates and preserves it aiming to address global challenges of the XXI century; as well as, to provide innovative transformations in Russia accompanying development of country's competitiveness in global energy and non-energy high-tech markets.
MEPhI faculty and students actively solve complex issues in high-priority fields. These issues range from nuclear energy to nanotechnology, medicine to ecology, IT to innovation management. Newly established Strategic Academic Units (StrAUs) center the traditional MEPhI departments on pertinent and strategically meaningful concepts in order to accelerate discoveries that yield significant scientific impacts. MEPhI exports branch campuses, attracts students and researchers and collaborates with research partners.
We invite talented people to apply for one of our interdisciplinary study programs in Russian and English, join the team as a professor or partner, or simply be a supporter.
Everything in MEPhI is based on the principles of openness, internationalism, and innovation.