Dorms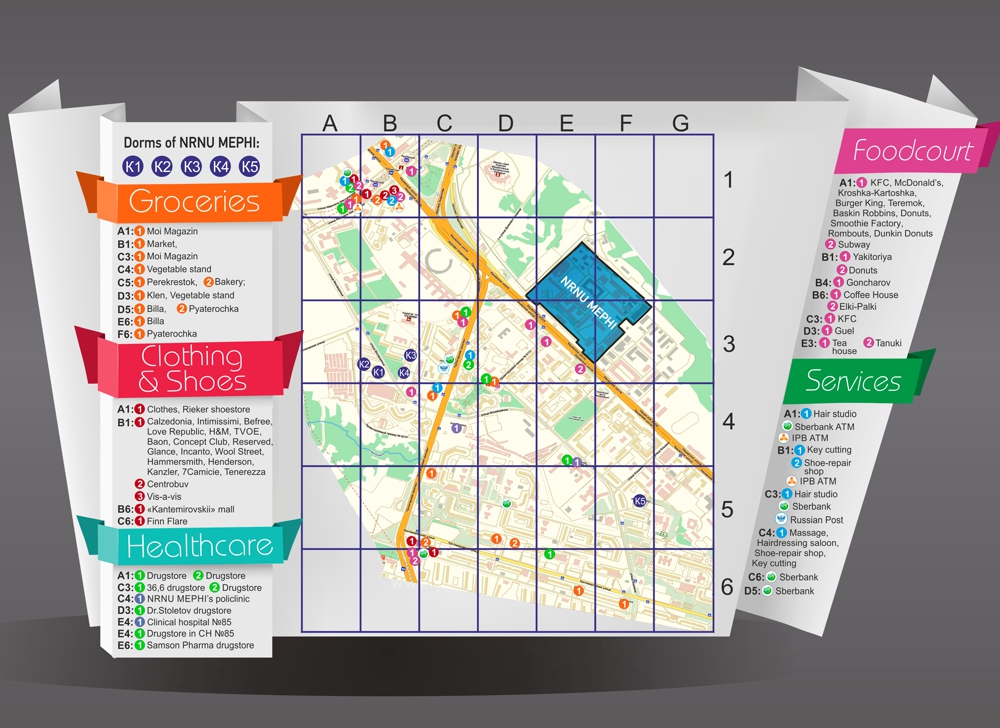 An ideal location
If you look on the Moscow map, you will see that MEPhI is conveniently located close to all public transportation: buses, metro and trains. In addition, a few meters from the University, there is one of the largest historic parks in the city – the Kolomenskoye.  The park includes a Historic Palace, some  of the oldest churches and historic monuments, and huge green apple orchards.
Every foreign student has the opportunity to live in the MEPhI dormitory. It is situated within 15 minutes' walk from the University.
In total, MEPhI dormitory includes 6 buildings. Two of which are apartment hotels, 24 floors each; three buildings consist of corridor rooms and have 5 floors; and the last one is a 14 story building for post-graduate students and young professors.
A dormitory room accommodates 2 or 3 students depending on the size of the room. Each is equipped with beds, tables, chairs, shelves, space for shoes and utensils. A living room has a wardrobe. The kitchen is equipped with stoves and refrigerators. In the buildings there is a common laundry room and a free Internet connection.
The dormitory complex is surrounded by many restaurants and grocery stores with reasonable prices. There are many cafes, gyms, supermarkets and pharmacy outlets. Within a radius of 200 meters there is the medical center and hospital, which services MEPhI students and employees. The average fee for medical services is 3600 rub. per semester.